He's written operas, sonatas and symphonies.
Now he brings his epic piano skillz to the cabaret circuit.
Cast and Crew
Gillian Hassert (Kathy, The Stage Manager)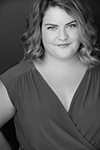 Gillian Hassert is a singer and an actor originally from Summit, NJ. She earned her B.F.A. in Vocal Performance from Carnegie Mellon University before moving to New York City in 2013. She has performed in cabarets, workshops and readings at the Players Club, Studio 54 and the Laurie Beechman Theatre, among others. Collaborating with new composers has become almost an obsession. Some favorites include projects with composers Eric Dietz, Leo Hurley & Charles Osborne, and Ben Boecker. This past summer, she had the joy of playing Ursula in Disney's The Little Mermaid in the Wisconsin Dells. While primarily a stage performer, Gillian has been a church singer for the past 8 years and often coaches younger performers.
James Higgins (Ludwig Van Beethoven)

James Higgins is a music director, composer and actor (!) living in New York City. In his 25 years as a professional musician, he has performed in more than 80 countries on all 7 continents (including a performance in the middle of the Southern Ocean off the coast of Antarctica!). His critically acclaimed musical, The Great One, about Wayne Gretzky's earth-shattering 1988 trade from Edmonton to Los Angeles, premiered last winter in Columbus in celebration of the NHL All-Star game. Pre B'way: Jeanne La Pucelle (d. Martin Charnin); Off B'way: Old Jews Telling Jokes, Living With Henry; NYC: Goddess Wheel by Galt McDermott (world premiere), The Gefilte Fish Chronicles (also performed at the White House!), Astoria Stories (APAC), Drowsy Chaperone, Company ; Regional: Slow Dance with a Hot Pick Up (Boulder Dinner Theatre), All I Ask of You, Once Upon a Time in New Jersey (Surflight), Music of the Night (North Shore Music Theatre), Ragtime, South Pacific, Bat Boy, Candide, and many others. As an actor, his favorite roles include Ché in Evita, Arnold in Torch Song Trilogy, Guiteau in Assassins, and the title role in You're a Good Man Charlie Brown. He is thrilled to be reviving his long-buried acting career by portraying his childhood idol! iamjameshiggins.com
Nancy Holson (Writer, Director)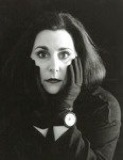 Nancy is an Emmy-award winning writer, director and producer whose 25-year career spans the worlds of commercial live theater, corporate theater, and television. Nancy wrote, produced and directed the long-running hit show THE NEWS IN REVUE (1992 – 2011), on PBS (5 Emmy Awards), NPR, Off Broadway, the Berkshires and numerous venues from coast to coast. Writer/Director/and/or Producer - Off Broadway: BUSH WARS and LUDWIG LIVE! NYC and Regional: PARENTING 101: The Musical, DEAR MOM, CAN I REALLY DATE A GUY WHO WEARS A YARMULKE? London: LUDWIG LIVE!. Nancy's newest project, NUTCRACKER! The Musical launched this past holiday season in both New York and London.